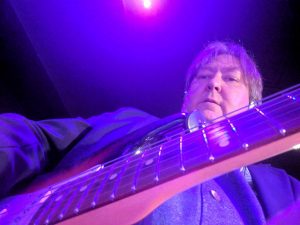 ANTHONY WALKER:
Owner/Engineer/Producer
Videographer/Instructor
Owner of the recording studio and the guy who wired it all up. Engineer's engineer, Producer's producer. The go-to guy when deciding which room/microphone/placement/preamp/compressor is best for each instrument. How to handle the human dynamics and emotions of session which includes getting the headphones right. MIDI guru. Place to go for the best mix.
In terms of producing, revising a chord or melody note to make a mediocre song super catchy. He's the guy and this is very rare skill. Scoring vocal/horn/string arrangements in Finale to make it pro while functioning as a liaison with the classical musicians. Yep! Working with different kinds of people and cultures from Heavy Metal to Opera and Jazz to School Ensembles is second nature.
Teacher with the Fort Collins school, Colorado Contemporary Music College and California based Recording Connection. Plays many string instruments and keyboards including sitar.
Finally, excellent photographer, videographer and video editor. Skilled in the used of the green screen as well as studio & remote filming. Has the knowledge to sync multi-track audio recording and multi-cameras.
Master of Science Electrical Engineering
Decades of performing and recording experience
Studied sitar in India
Skilled in Software Development & Chip Design
[powr-about-us id=95afb5d9_1520197361315]